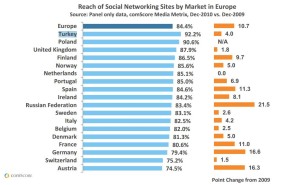 Sociale Media usage in Turkey
Use of social media in Turkey
In the world of business, sharing your knowledge and experience is very important. In Turkey is one always looking for investors and partners to participate on the ( international) trade market. Try to use your social and business network to accomplish your goals.
A business meeting in Turkey comes together with a lot of tea and food. Don't expect that during this meetings a lot of things will be discussed. Leave this to your Turkish partner. A Turkish partner sometimes needs time and trust to get to know his foreigner investor/ partner.
Ofcourse it is very important to put all your agreements on paper, although a Turkish business man can have problems with that, they are not always used to this way of doing bussines.
Facebook usage in Turkey
Facebook use in Turkey
While doing bussines in / with Turkey you must not forget that Turkey uses the internet al lot, social media is one example. For example 92.2% of all people in Turkey uses Facebook
( www.comscore.com) This is many times more than in most of the European countries. Also Linkedin is very popular.
Internet use in Turkey
Turkey has potential, with a growth of 7 % it leaves a lot of european countries behind. Even in this period where a lot of countries has to face the economical crisis and struggle Turkey satisfies the international criteria according to, development in the market economy, debts and budget deficit.
The slow growth trend shows us the affect the economical crisis has on Turkey. If there wouldn't be a crisis Turkey would grow much faster. Al this doesn't mean it is a bad idea to invest in Turkey in time of crisis. There are a lot of opportunities for foreign companies.
Internet Usage in Turkey
Because of the large sales market, low workercosts, and the growing economy Turkey is an interesting partner for foreigner ( duth) companies.
Turkey is an important business partner. The focus of all these activities will be on the cooperation and the exchange with the investing countries. There are a lot of business meetings (B2B9 which are great opportunities to participate and to expand your social contacts and/or business networks.
Please follow and like us: